Welcome! Shop Now for Books, CD's, DVD's!

With Your Financial Help This Creation Science Store will be Expanded
to Include a Shopping Cart in Mid-2009.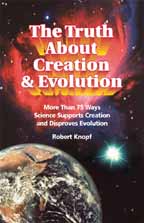 Buy Now! The Truth About Creation & Evolution book features more than 75 ways that science supports biblical creation, by Robert (Bob) Knopf.
Send $5.00 + $3.00 s/h to the address below.
Mail check, money order, or VISA/MC information to:
Creation Science Network
4607 NE Cedar Creek Rd.
Woodland, WA 98674


Or, fax orders to 360-225-7616 giving full credit card
and shipping information.
Buy Now! Radio CD's of "Exploring God's Creation™" Radio Program.
Three Shows per CD, only $6.00 plus $3.00 s/h. To select from our list of shows, click here.